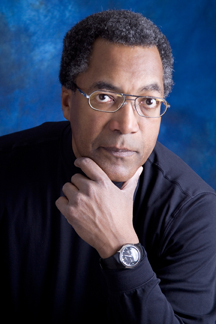 Anthony Elliott
Quarter Notes, March 2012
Artist Interview with Anthony Elliott
from "QuarterNotes: News and Events of the Prince
George's Philharmonic" - March 2012
Quarter Notes: Thank you so much, Maestro Elliott, for taking the time to do this interview with us. We are very much looking forward to performing with you at the end of this month! May we start with a few words about your background and training?
Anthony Elliott: I grew up in upstate New York, and was lucky enough to be in a school system that included strong musical education. In fourth grade I wanted to learn to play drums, but the music instructor gave me a cello instead. By high school, I did play a few other instruments – bass viol and tuba – but the cello became an essential part of my life. In high school I received a scholarship to attend, for two summers, the music festival at Michigan State University, at which we studied with outstanding professionals, both performers and conductors. This experience set me on my way toward a professional career with the cello. I was most fortunate to attend Indiana University and to study with the legendary (and still teaching after more than 50 years) cellist Janos Starker!
QN: Fortunate indeed! Did you meet our conductor Charles Ellis at Indiana?
AE: Oh yes! Students were seated alphabetically in our Freshman Music Theory course, and "Elliott" and "Ellis" became fast friends very quickly. We've kept in touch ever since, and that's how I've gotten to know the Prince George's Philharmonic!
QN: This will be, I believe, the fourth time that you have worked with the Philharmonic, and we are looking forward to another visit next season too.
AE: Yes, I first came in 1996, and played the Elgar concerto with the Philharmonic. Then in February 2003, I was your guest conductor, and in October 2004, I played a commissioned piece - a memorial to Martin Luther King. And of course I am looking forward to performing the Prokofiev with you this month!
QN: I know that after you finished at Indiana, you began to win prestigious honors in cello performance. The list is long, but we should mention a few, for example the 1979 Concours Cassado in Florence, Italy, in which you were the top-ranked American cellist; and in 1987, you won the Feuermann International Cello Competition. Congratulations! But now, let's talk about the Prokofiev Sinfonia Concertante. Have you been performing this amazing piece for many years, and is it a favorite of yours?
AE: Yes, I tackled this amazing piece of music early in my career. As you know, it was rewritten by Prokofiev in the early 1950s from a cello concerto that he had written many years earlier. He worked with the young but already renowned cellist Mstislav Rostropovich on the adaptation, making the concerto flashier and more complex, and taking advantage of the amazing virtuosity of the cello. You have to remember that the Soviet Union put severe limits on composers, and could ruin them by labeling them too "western" – Prokofiev poured his dark Russian soul into this work, giving it both a sharp acerbic edge as well as an impassioned lyricism.
But I want to tell you of my own very special experience with Rostropovich and this Prokofiev piece. In the early 1970s, when I was playing with the Toronto Symphony Orchestra, and when the Soviet Union allowed Rostropovich to travel outside Russia, the renowned cellist came to Toronto to perform with the orchestra. I arranged to have an audience with Rostropovich, took my cello to his hotel room, and played for him and talked with him for about 2-1/2 hours. Most of our time was spent on the Prokofiev Sinfonia Concertante, and he was wonderfully generous with instruction and suggestions. In fact, after his performance, he contacted me again with additional suggestions that had occurred to him during his performance of other pieces. He was a most outstanding and generous artist, and his influence on my career, especially in regard to this piece, was huge.
QN: The Sinfonia Concertante is a very challenging piece, especially for the performer, but also for the audience. Many of us in the Philharmonic had never heard it before; it is taking time and effort to get into it, though I think that most of us are already hooked! It will probably be hard for the audience to grasp it in just one hearing. Do you agree?
AE: That is probably true, but my hope is that it will raise in the audience enough interest and curiosity that they will make a point of hearing it again and again.
QN: And what a gift you will have given them! Thank you so much! We are really looking forward to March 31!